Steve McCrory
Hello to all, I am new to this forum.. I have in my possession a mod 97 Trench Gun and matching bayonet.
This weapon appears to have been a personal weapon of perhaps a non com Marine ( believing Marine as they were the Expeditionary force of WW1) or Army. It has a bit of carving to accentuate the grip, really just a line sweeping upwards from the ball end towards the back of the receiver.
It has all the correct markings… Has the US stamp and the Flaming Bomb clearly marked at the back of the barrel in front of the receiver, also same markings on the ejection side of the receiver… This also has the correct 6 hole heat shroud, bayonet grip and a M1907 sling…With about 80% brown left on this gun it is also very tight, been cared for with love as it feels like a newer 1920's 97 goose gun I have….
What is unique are the serial numbers, seems as if these 97's destined for the military during WW1 had serial numbers from 600,000 to 690,000…give or take..
My weapon has serial numbers in the low 500,000's… Like 504….Dating this 97 to 1912 pre WW1… The gun has a cartouche stamped into the left side of the stock, basically all of the right markings to make it a legit WW1 piece… 
There is only one marking that doesn't fit… the barrel is stamped FULL… My belief is that this weapon was part of a Military test bed for the trench gun series and the Military commissioned Winchester to build some 500k of this weapon to test for worthiness in battle. Therefore contracted Winchester and then W chose to use their excess FULL choke long barrels and resized them to make this initial series…  Basically making it an open choke… If the Germans found you in possession of one these during capture… you were immediately executed… at least that is the lore spread to this day.
If any one has info to support or refute my thoughts , please feel free to contact me or post your thoughts.
Thank you for  your interest.
Steve McCrory

Kingston, WA
Forum Posts: 12717
Member Since:
April 15, 2005

Offline
Steve,
To start this off, your Winchester should be a Model "1897" versus a "97".  If it is marked "97" on either the barrel or the slide bar, it is a piece parts (put together) gun, and not original.
Model 1897 serial numbers 504000 – 504999 were manufactured in September & October of 1910 versus in 1912. The serial number on your gun immediately makes it suspect, as does the "FULL" marked barrel.  What (if anything) is marked on the bayonet adapter?
Your statement "the Military commissioned Winchester to build some 500k of this weapon to test for worthiness in battle." is definitely not accurate. 
Is your Winchester a solid frame, or a Take down?
While Winchester did infrequently use standard length barrels (Full choke marked) to make up a small number of Trench and Riot Guns, they overmarked the "FULL" stamp, and marked "CYL" right above it.
Can you post (or send me) clear pictures of the gun?
Bert
WACA 6571L, Historian & Board of Director Member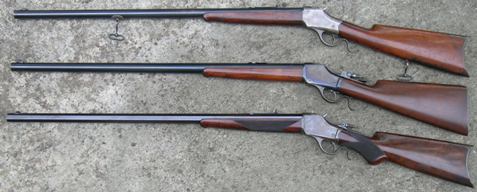 Forum Posts: 1764
Member Since:
December 31, 2012

Offline
Most Users Ever Online:
628
Currently Browsing this Page:
1
Guest(s)
Forum Stats:
Groups: 1
Forums: 16
Topics: 10399
Posts: 89645
Member Stats:
Guest Posters: 1431
Members: 11499
Moderators: 3
Admins: 3
©
Simple:Press
—