Topic RSS


Winchester Model 52C What
October 15, 2016
4:02 am

Andy Stone
Good evening, 
I hope this messages finds those who are reading it well.  My great uncle Ralph left me a few of his antique firearms recently one of which is a Model 52C, .22 LR "heavy barrel" target rifle.  Ralph, a product of the great depression and for better or worse was a collector of all things and an expeller of nothing.  Ralph was also very meticulous and cared for all of his rifles with the utmost attention to detail.  What is unique about this firearm is that he saved the original shipping crate and scope.  
My questions to the forum is what is a collection like this work.  From my limited research I have determined that the gun was manufactured in 1956 and my great uncle was the sole owner.  
Thank you in advance for your time, comments and posts. If anyone would need or like any additional photos please let me know. I have a link to some google drive photos (please email me and I will send you the link) but I am having difficulty posting the photos into this forum. 
Regards,
Andy
October 15, 2016
4:25 am

Kingston, WA
Forum Posts: 11922
Member Since:
April 15, 2005
Offline
Hello Andy,
Just to set things straight, the Winchester Model 52 is not legally an "Antique" firearm. In order for a firearm to legally qualify as "Antique", the production date must be no later than December 31st, 1898.
Now with that cleared up, your Model 52C is potentially quite valuable. We do need to see pictures of the rifle and the crate & scope. You need to be a registered user on the WACA website to post links and pictures, or better yet, a WACA member. We have several WACA members that are quite knowledgeable about the Model 52.
Bert
WACA 6571L, Historian & Board of Director Member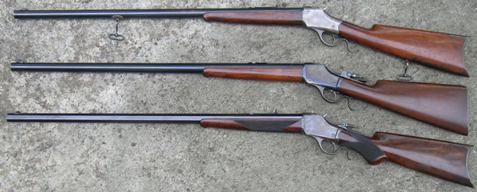 October 15, 2016
12:31 pm
Forum Posts: 3
Member Since:
October 15, 2016
Offline
October 16, 2016
9:42 pm

SO. Oregon
Forum Posts: 647
Member Since:
June 5, 2015
Offline
October 17, 2016
12:35 am
Wyoming - Gods Country
Forum Posts: 1093
Member Since:
January 26, 2011
Offline
October 17, 2016
2:21 am

Forum Posts: 471
Member Since:
March 12, 2008

Online
Andy, beautiful rifle and scope. I would estimate your rifle w/crate at about $1,500+ and the scope w/box at $600.   Does the rifle have any of the original paperwork such as manual, bolt tag etc? How about internal packing materials and original restraining cradles that were used to secure rifle in shipment? Target sights would be a plus also.
These values are retail values and would most likely be somewhat higher at a major auction houses. The downside to these is the high fee's they charge.
Steve
October 19, 2016
2:51 am
Forum Posts: 3
Member Since:
October 15, 2016
Offline
All,
Thank you for the responses and comments.
Steve,
Thank you for your response. To answer your questions. The rifle does not have any original paperwork (at least none that we have found yet – you can only image the boxes of items we have to go though).  The crates does however have all of the original restraining cradles in it, including the green felt used to secure the rifle.  Unfortunately the original target sites are not with the rifle just the scope.  
Thanks again
Andy 
October 19, 2016
1:49 pm

Forum Posts: 471
Member Since:
March 12, 2008

Online
Andy, thanks for the info. Your rifle, which is Winchester's catalog designation 5255(see end of crate), did not originally come with sights. So it is correct. That said, most were later equipped with sights and thus my question as to whether yours had any additional sights. The reason for the question is that sights can add to overall value of rifle. 
Steve
October 19, 2016
7:08 pm
Forum Posts: 3
Member Since:
October 15, 2016
Offline
October 21, 2016
1:23 am
Northern edge of the D/FW Metromess
Forum Posts: 3439
Member Since:
November 7, 2015
Offline
Life Member TSRA, Endowment Member NRA
BBHC Member, TGCA Member
Smokeless powder is a passing fad! -Steve Garbe
I hate rude behavior in a man. I won't tolerate it. -Woodrow F. Call, Lonesome Dove
Some of my favorite recipes start out with a handful of depleted counterbalance devices.-TXGunNut
Presbyopia be damned, I'm going to shoot this thing! -TXGunNut
---
Forum Stats:
Groups: 1
Forums: 16
Topics: 9307
Posts: 80304
Member Stats:
Guest Posters: 1258
Members: 10727
Moderators: 4
Admins: 3