Im trying to help my dad figure out what some of his old guns are worth.  He has quite a few old lever action and a variety of others.  He's been buying for quite a while, but due to health reasons he is probably going to have to part with a few.  
He bought this one about 40 years ago and paid quite a bit for it at the time.  Hopefully he made a good buy.  The case hardining is in very good shape, and the gun looks very good overall.  It has double triggers and a fancy butplate, and highly figured wood.
serial number is 77510,  it may be 77610.  I need to get it out in some better light and with a magnifying glass, my eyes are not that good anymore either.
i took a few pics, but don't know how to post them.
thanks.
If you are unable to figure out how to post pictures, you can send them to me at [email protected]
Did your dad obtain a factory letter for the rifle? If not, I will need to know what the serial number is.
Bert
WACA 6571L, Historian & Board of Director Member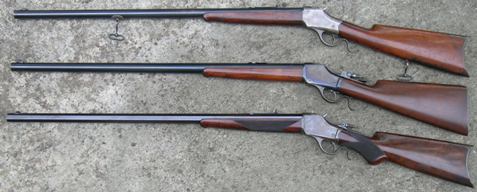 Forum Posts: 197
Member Since:
January 22, 1999

Offline
Well DMC,
That is one fine looking Model 1885 Winchester, antique no less.
It would be interesting to know, if that is the configuration, when it left the factory.
Scope Blocks or not, it would be a prize in my collection, even if I could afford it.
"I Would Have Rather Lived Through The Industrial Revaluation"
"Instead of The Space Age"
From
 The Twilight Zone
Northern edge of the D/FW Metromess
Forum Posts: 3904
Member Since:
November 7, 2015

Offline
Life Member TSRA, Endowment Member NRA
BBHC Member, TGCA Member
Smokeless powder is a passing fad! -Steve Garbe
I hate rude behavior in a man. I won't tolerate it. -Woodrow F. Call, Lonesome Dove
Some of my favorite recipes start out with a handful of depleted counterbalance devices.-TXGunNut
Presbyopia be damned, I'm going to shoot this thing! -TXGunNut

Location: 32000' +
Forum Posts: 1828
Member Since:
July 17, 2012

Offline
No harm at all.  Just make sure the bore is clear.
Regards,
WACA Life Member #6284 - Specializing in Pre-64 Winchester .22 Rimfire
I picked up some 22 shorts over the weekend and I forgot how small they are.  100 yards seem like a long way for such a small bullet and open sights.  
I've shot my old 22 lever action with 22lr out to 100 yrs, so I guess I'll give it a try.  But I think I'll start out at the 50.  And sitting down, this thing is heavy.  And after the trigger is set I think I only have to think about touching the trigger for it to go off.
hopefully I will be able to give it a try soon.
Most Users Ever Online:
628
Currently Browsing this Page:
1
Guest(s)
Forum Stats:
Groups: 1
Forums: 16
Topics: 10430
Posts: 89899
Member Stats:
Guest Posters: 1434
Members: 11521
Moderators: 3
Admins: 3
©
Simple:Press
—