Forum Posts: 1061
Member Since:
December 21, 2006

Offline
Northern edge of the D/FW Metromess
Forum Posts: 4675
Member Since:
November 7, 2015

Offline
Very nice, congrats. Gotta like a high-condition deluxe 1886, thanks for taking the time to share the pics. My pics get turned too but that may be an iThing.

Mike
Life Member TSRA, Endowment Member NRA
BBHC Member, TGCA Member
Smokeless powder is a passing fad! -Steve Garbe
I hate rude behavior in a man. I won't tolerate it. -Woodrow F. Call, Lonesome Dove
Some of my favorite recipes start out with a handful of depleted counterbalance devices.-TXGunNut
Presbyopia be damned, I'm going to shoot this thing! -TXGunNut
Great gun you have there. I have always loved that configuration on 86's.Had a similar gun years ago,as with all my guns i have sold wish I never sold it, same pistol grip button magazine, always loved the balance of the 86's with pistol grip and short magazine. If anyone knows where serial number 4215 is, sure would like to see it. Same configuration as this gun but 45-90 and half round.
 Strange that the letter doesn't mention upgraded wood, I would call that definitely X or possibly XX word, gorgeous..

Taos NM
Forum Posts: 252
Member Since:
October 29, 2011

Offline

Presumably, yes, the nickel steel barrel was applied in 1914 when the rifle was returned to the factory.  Proof marks started to be applied in 1905, and so these would not be contemporary to your 1892 production revolver.  A good sign is that the proof mark on the receiver and the barrel appear to be applied by an identical die, which is a positive indicator.  However, unfortunately, this is all conjecture, as R & R records no longer exist.  And, of course, there is always the very unlikely possibility that an identical (the same) die applied proof marks by someone well after the fact.  Of course, this is unlikely and there is little motive to do so.
I wouldn't call a nickel steel barrel rare.  Uncommon is a better classification.
George Madis predated the internet, and, therefore, ease of communication, by a great deal of time, and with much more information now available, a lot of what he claimed was rare was believed to be so…at that time.  More information equals more data and precise information.  A great example of this is the Winchester 1886 carbine.  Madis claimed they were 1 in 400 of total production.  I consider that to be rare.  It's since been proven they are about 1 in 20 of original production which, depending on your particular definition, might not even be considered uncommon.
I know this because I researched this and discovered that my hypothesis that they numbered 1 in 20, based on unscientific research, is true.  It might actually now b proven to be 1 in 18 or 1 in 22, etc, but certainly not 1 in 400.  And I'm of maybe somewhat above average intelligence, but I was never considered a wiz kid!
I would not classify a Nickel Steel barrel on a Model 1886 as even "uncommon". There were many thousands of them made with Nickel Steel barrels, beginning in 1902.
The survey that Mark Yecha and I have in progress for the late production Model 1886's (serial numbers 146000 – 160000) indicates that a very high percentage of them had Nickel Steel barrels. What is "uncommon" are those that were equipped with a Stainless Steel or Proof Steel barrel.
Bert
WACA 6571L, Historian & Board of Director Member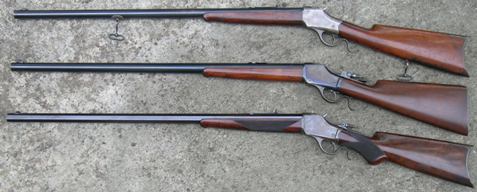 [email protected] said

Even the Earlier ones, like this one, Bert? I can understand, the later ones as they were so called more Common, with improved steel, and production methods, but I thought maybe being one of the Earlier mfg. model, that just possibly it could be considered, are little more uncommon.
I think what you mean and I meant that as far as total production, nickel steel barrels might be considered uncommon, but with regards to 1902 and after production they are not.  However, Bert has indicated to me that they are more common in later production than I believed, so even with regards to total production, they aren't even what I would consider to be uncommon.
The Nickel Steel alloy and ability to properly machine it was not perfected until about May, 1895. There should not be any early production Model 1886 rifles with a Nickel Steel barrel. That stated, it did not take many years after 1895 before Nickel Steel barrels began to appear on a regular basis, and beginning in 1902, they were prolifically used. The Model 1886 ELW rifles (all calibers) were predominantly manufactured with Nickel Steel barrels, as were almost 100% of the 33 WCF rifles.
WACA 6571L, Historian & Board of Director Member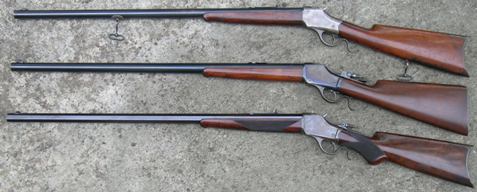 [email protected] said

WPO,

Pretty sure the wood is original to the gun, as the Letter states, the checkered stock.

When I can I'd like to carefully remove the wood and check to see if there's any xx's on the tang, like the other Deluxe s   I'm familiar with seeing.

I do like the sunburst grain in the Butt stock, making me think possibly being a more select XXX Walnut!

426crown said
Great find, Lovely gun  Bill  

Thanks Bill,

The old Boy I got it from, is well into his 90's, and has really become a good friend, just to go visit, and check on, and listen to old stories, while either Bonanza, or the Rifleman is currently playing re runs!

I've truly been Blessed with the older Gentlemen that I have come to know over the years!

He still gets amazed at the Cell phone and the info that we can find on it!

Tony  
Pls, by now mention was I intuiting the wood  was not original, in my opinion, absolutely original..Just making comment that the wood is def x or xx or maybe,as your stated xxx, wood. Great gun and I it were mine, I would shoot it. I have always shot all of my guns, even old 44rf guns I shot them…:)
Tony,
That would be a great rifle to hunt with.  We have been going up to our camp in Tionesta a lot this summer. We had quite the rainstorm this past Tuesday, and Hunter Run,  small stream that's behind our place overflowed it's banks.  Luckily we didn't have any flood damage, and only had some debris, and a good size log in the yard to clean up.
Al

Eastern Iowa
Forum Posts: 260
Member Since:
February 22, 2021

Offline

Most Users Ever Online:
778
Currently Browsing this Page:
1
Guest(s)
Forum Stats:
Groups: 1
Forums: 16
Topics: 12133
Posts: 104951
Member Stats:
Guest Posters: 1682
Members: 12663
Moderators: 4
Admins: 3
©
Simple:Press
—