Topic RSS


New from Reno
November 26, 2013
2:23 pm
Forum Posts: 148
Member Since:
August 8, 2012
Offline
I visited the site the last couple of days anticipating seeing some new purchases from the Reno show but alas it appears nobody is ready to show their new booty. 🙁 I couldn't make it this year after getting that "new to me" 1892. My funds were cut to close this year. I might try to regroup and make Vegas in Jan. I was there the last two years and enjoyed the show. I hope you guys are going to post some new stuff, it's always interesting seeing what's out there. 8)
Gene
November 27, 2013
8:14 am
Forum Posts: 248
Member Since:
December 9, 2007
Offline
I was up for 25 hours straight, 16 of that driving, but it was worth it. So many gun shows are all black plastic. That was the first show I've been to since the old days when Winchesters and Colts were the norm. Nice. Although Colts were pretty slim. Lot's of Winchesters I wanted to buy, but no money, so I just drooled on them. I did get some good education while there.
November 27, 2013
9:14 am

Kingston, WA
Forum Posts: 11852
Member Since:
April 15, 2005
Offline
I did not buy anything for my collection, but I did help several people buy Winchesters for their collections.
The most interesting Winchester I had the pleasure of handling was a Model 1892 Take Down Rifle with a 32-inch half-octagon barrel, full length magazine (two mag rings), pistol grip, plain walnut, I-pattern checkered stocks, and Lyman sights.
Bert
WACA 6571L, Historian & Board of Director Member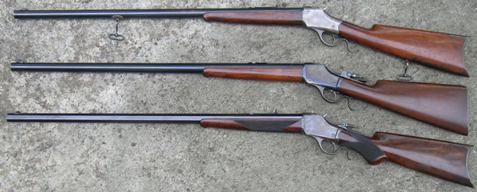 November 27, 2013
9:37 am

Oregon
Forum Posts: 689
Member Since:
September 29, 1993
Offline
November 27, 2013
7:23 pm
Forum Posts: 10
Member Since:
August 25, 2009
Offline
November 27, 2013
7:34 pm
Wyoming - Gods Country
Forum Posts: 1091
Member Since:
January 26, 2011
Offline
---
Most Users Ever Online: 628
Currently Online:
34 Guest(s)
Currently Browsing this Page:
1 Guest(s)
Forum Stats:
Groups: 1
Forums: 16
Topics: 9177
Posts: 79012
Member Stats:
Guest Posters: 1237
Members: 10629
Moderators: 4
Admins: 3