Topic RSS


Old West Snake Oil
March 14, 2017
12:08 am
Forum Posts: 82
Member Since:
August 27, 2014
Offline
March 14, 2017
12:18 am

Forum Posts: 44
Member Since:
February 24, 2014
Offline
March 14, 2017
6:55 am
Forum Posts: 641
Member Since:
December 27, 2007
Offline
From what I've read, more folks seem to like it than those who don't.
I don't like it.  Maybe I had a bad bottle of it?  The Snake Oil was waxy on my stocks.  Oily to the touch.  Rain would turn it into a foreign material that would continue to come off on my hands.  Didn't seal against the rain.  Where I held the forestock, after a short while there was little left there--Transferred from my hand to my pant leg.
I had purchased two bottles of it.  Ended up giving them away to someone who wanted to try the SnOil.
Now I am very pleased using Mineral Spirits and Pure Tung Oil in a 50/50 mix.  Brings out more beauty of the wood, seals against rain, stays on/in the wood without crudding up your hands.  No wax crud.  No alien crud. 
March 14, 2017
3:07 pm

New Mexico
Forum Posts: 1025
Member Since:
December 1, 2012
Offline
March 14, 2017
7:20 pm

Kingston, WA
Forum Posts: 7846
Member Since:
April 15, 2005
Offline
Old West Snake Oil is a great product for protecting the surfaces from oxidation and frequently handling (gun shows). I doubt that it is the best product for protecting the gun from the elements when out in a hunting environment. I have used it on most of my old old Winchesters for the past 20-years and like it.
Bert
WACA 6571L, Historian & Board of Director Member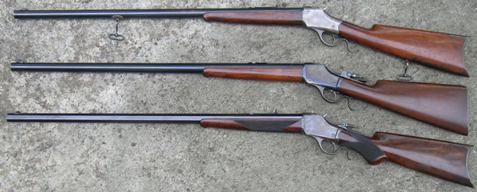 March 14, 2017
8:25 pm
Forum Posts: 129
Member Since:
January 24, 2013
Offline
March 16, 2017
6:36 am
Forum Posts: 641
Member Since:
December 27, 2007
Offline
March 19, 2017
2:12 pm
NE OREGON
Forum Posts: 319
Member Since:
July 8, 2016
Offline
I would sure be careful of putting the tung oil/mineral spirits on your Winchesters on a regular basis as it is a permanent finish and will just built up and begin to look thick. I also would not want it on the metal for the same reason. I do think it is a great wood finish, but should be applied sparingly, and not slopped over onto the metal surfaces. I have used snake oil and think it does the job it was made to do. I prefer Renaissance Micro-Crystalline Wax Polish though. Peter
---
Most Users Ever Online: 628
Currently Online:
29 Guest(s)
Currently Browsing this Page:
1 Guest(s)
Forum Stats:
Groups: 1
Forums: 15
Topics: 4432
Posts: 35457
Member Stats:
Guest Posters: 545
Members: 7008
Moderators: 3
Admins: 3