Topic RSS


dust cover spring screw on 73 Winchester
May 27, 2021
12:39 pm
Arizona
Forum Posts: 28
Member Since:
June 24, 2020
Offline
Hello again my fellow Winchester enthusiast, I come to you again searching for help and direction. I have and old 1873 been working on when I have the time. Fix one problem and then move on to the next. I got involved with the old Winchester and most  guns out of my interest in the old cowboy history. But  thanks to Bob and Burt and the rest of you good fellas and this site, have been learning alot about Winchesters. Have come to another problem hoping to get some advise on. Have a stuck dust cover spring screw, the spring was busted and can see just a small portion of it protruding from under the screw. I used my hollow ground, proper size  screw driver and can not budge it. Soaked the little  depression that the screw and spring sit in with Kroll for a couple days and tried to use my screw driver and tap down on it with a small bronze hammer hoping to maybe freeing the screw. Much to my dismay , no such luck. Any other thing I might try before I might have to drill and try an ez out, or gunsmith? Thanks a million for your time and expertise my friends !
May 27, 2021
1:33 pm
Forum Posts: 311
Member Since:
September 19, 2014
Offline
Rob,  First, hope you get some good advice from ones who have been there, done that more than me.  But I personally would say forget the idea of any easy outs!  First, they aren't.  Misnamed for sure.  The screw has a rather small shank, and any easy out small enough would likely only snap off in the hole making a bigger problem.  Have patience and let the Kroil work for more days.  Maybe add in a regimen of light and directed heat to try to "crack" the seam between the receiver and the screw–but do NOT pore the heat on from a propane torch, etc!  A heat gun if you have one, or maybe the mini butane torch directed onto the screw head only.  Tap with a brass punch maybe with the receiver snug against a wooden surface so it won't mar yet not absorb the blow of TAPPING with your brass hammer and punch.  No sledge hammers here.  Persistence, penetrating oil, very directed and moderate heat, tapping on the screw head with a brass hammer and punch or screwdriver, and it will eventually come I believe.  But patience is the key in my opinion.  Best tool in the tool box!  Tim
May 27, 2021
1:42 pm
Wisconsin
Forum Posts: 4925
Member Since:
May 2, 2009
Offline
Rob,
 Keep soaking it but then try heat and cold. Heat the frame up with a heat gun which will help the kroil soak in and put your screwdriver in the freezer. When you got everything ready take the screwdriver out and try the screw without delay. Your trying expand the receiver with heat and shrink the screw with cold.
Bob
WACA Life Member---
NRA Life Member----
Cody Firearms member since 1991

Email: bob.1873man@gmail.com
May 27, 2021
9:42 pm
South Texas
Forum Posts: 1100
Member Since:
March 20, 2010
Offline
Not making any recommendations, just relaying past experiences.  For froze screws I use PB Blaster Penetrating Catalyst from the local auto parts store.  Drizzle it into a dropper then apply around the screw head.  Has never failed me yet on some really tough screws that I thought I was going to have to drill out (froze or badly boogered heads).  May take an application or two, but the wait time has usually been less than an hour, most times less than 15 minutes.   No negative effects that Ive experienced on metal finishes.  Read up on the product and decide what you want to do.  Kroil is a great and safe product from others accounts and is what most folks use, I just havent  had the patience for it.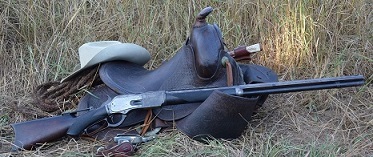 1892takedown @sbcglobal.net ......NRA Endowment Life Member.....WACA Member
"God is great.....beer is good.....and people are crazy"... Billy Currington
May 27, 2021
10:07 pm
Forum Posts: 449
Member Since:
February 19, 2013
Offline
May 28, 2021
10:45 pm
Arizona
Forum Posts: 28
Member Since:
June 24, 2020
Offline
Hello Fellas, Have soaked in kroil on the top for a couple days, and tried my heat gun to it without success. I just got thru taking the rifle apart  side plate, toggles , lever springs and trigger group and flipped it upside down and see the screw hole goes thru the top of the frame. Will try soaking it in the threaded part upside down, with PB Blaster for a couple days. Might penetrate better that way (Hopefully). Thank you all for the help and suggestions, I am always open for any advise you can give me and will post any  progress. Many thanks !
Rob
May 31, 2021
2:14 pm
Arizona
Forum Posts: 28
Member Since:
June 24, 2020
Offline
Hello Fellas, Just a note to let you know, I have been soaking it in PB Blaster, Have a couple tang screws that loosen up but the dust cover spring screw will not budge. Some one may have cross threaded it into the hole, don't know, but it will not budge. Have tried all the options you have recommended. Will soak it all this week, and see what happens . You guys have been a great source of info here and do appreciate it! Thanks again
May 31, 2021
2:36 pm
Forum Posts: 1032
Member Since:
June 4, 2017
Offline
---
Forum Stats:
Groups: 1
Forums: 16
Topics: 9152
Posts: 78842
Member Stats:
Guest Posters: 1234
Members: 10619
Moderators: 4
Admins: 3