Topic RSS


Wood finish M71
July 22, 2013
4:08 am
Forum Posts: 7
Member Since:
January 18, 2013
Offline
What was the original wood finish for the Model 71? As a previous owner has made a bad, dull linseed oiling, I would like to refinish the wood. After having washed most of the oil away with ammonia water, I wonder if shellac or True-oil would be the proper cure. What did Winchester use originally? It's a standard M71 from 1946.
Thankful for your inputs!
Pete
July 22, 2013
8:20 am

Kingston, WA
Forum Posts: 11815
Member Since:
April 15, 2005
Offline
July 22, 2013
1:43 pm
Forum Posts: 141
Member Since:
January 24, 2013
Offline
I've tried a bunch of wood finishes and I always seem to come back to Tru-oil. Worked properly you can achieve just about any finish with Tru-Oil, from a high gloss piano finish to a nice dull oil finish, but you need to know how to work it.
Straight out of the bottle tru oil will give you a shine that rivals the bumper of a 43 Buick, you need to dull it a bit with linseed or paraffin oil and rottenstone. Try practicing on some scrap wood to get a feel of how tru oil works. And let it dry hard before rubbing out.
July 22, 2013
7:20 pm
South Texas
Forum Posts: 1099
Member Since:
March 20, 2010
Offline
I have to agree with you Mike, True Oil mixed with boiled linseed oil works well if applied the right way. Depending on the type of finish you want I mix the two 1:1 and apply, let dry. Then I go back with a cloth with the True Oil/linseed oil blotted in pumice or rottenstone and work the finish back down. Then reapply till you get the sheen you are looking for. You just have to watch out at the tangs and edges of the stock not to take any of the wood off or round the edges. May not be the most effective way but it has worked for me in the past.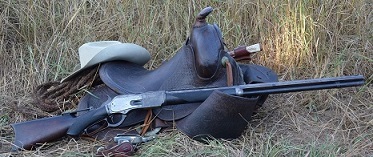 1892takedown @sbcglobal.net ......NRA Endowment Life Member.....WACA Member
"God is great.....beer is good.....and people are crazy"... Billy Currington
---
Forum Stats:
Groups: 1
Forums: 16
Topics: 9131
Posts: 78666
Member Stats:
Guest Posters: 1230
Members: 10604
Moderators: 4
Admins: 3