Topic RSS


44 WCF
January 17, 2020
3:49 pm
Forum Posts: 2
Member Since:
December 11, 2019
Offline
January 17, 2020
5:11 pm
Forum Posts: 1933
Member Since:
November 1, 2013
Offline
January 17, 2020
5:49 pm
Forum Posts: 1834
Member Since:
March 31, 2009
Offline
clarence said
.427" is the standard, but .429" is well within the "tolerance" range for that period.  Anyway, regardless of how it slugs, or how worn or pitted rifling is, only way to evaluate accuracy is by shooting it.  
I agree with Clarence.  I use .428" bullets. Depending upon the year of your gun you will find variances.  If this is the only 44 WCF you shoot and you are sure it is .429" try to get some .43" bullets.  If not .428" are readily available.  The soft bullets will obturate.  (expand to fit)
January 17, 2020
8:22 pm
Forum Posts: 2
Member Since:
December 11, 2019
Offline
January 17, 2020
8:31 pm
Forum Posts: 664
Member Since:
June 4, 2017

Online
 I cast in a original Winchester mold, do not size, and hand lube. The bore will size the bullet, it works for me on my antique Winchesters even if the bore is a little rough. I use wheel weights and drop bullets in a bucket of water as I'm casting. I also use Remington 200gr JSP, they measure .427, they have also been accurate. T/R
January 17, 2020
8:46 pm
Forum Posts: 1933
Member Since:
November 1, 2013
Offline
murissy@hotmail.com said
Thank you for the info. barrel is very pitted just wasnt sure about the tolerances.just waiting on ammo hard to get here.  
May get better results with jacketed bullets, even if they're undersize. Only shooting will tell.  Copper fouling is easier to remove than leading.
January 17, 2020
9:31 pm
Wisconsin
Forum Posts: 4441
Member Since:
May 2, 2009
Offline
January 19, 2020
4:34 pm

Forum Posts: 2578
Member Since:
March 20, 2009
Offline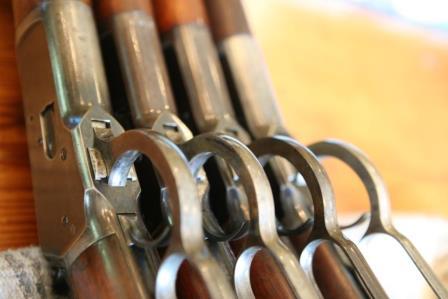 Model 1892 / Model 61 Collector, Research, Valuation
January 19, 2020
7:39 pm
Calif.
Forum Posts: 28
Member Since:
May 13, 2009
Offline
January 20, 2020
1:04 am
Forum Posts: 426
Member Since:
November 2, 2009
Offline

---
Most Users Ever Online: 628
Currently Online: OW1892, tionesta1, TR
45 Guest(s)
Currently Browsing this Page:
1 Guest(s)
Forum Stats:
Groups: 1
Forums: 16
Topics: 7630
Posts: 63638
Member Stats:
Guest Posters: 1040
Members: 9544
Moderators: 5
Admins: 3