Topic RSS


1905 Winchester Issues
April 15, 2020
1:12 am
Forum Posts: 5
Member Since:
March 23, 2020
Offline
I have been toiling with a 1905 32WSL now for the last 6 months. Fires great but will not blow back far enough to extract the cartridge. Have tried several loads with 4227 and 2400. Ruled that out. There are 2 parameters I cannot find data on first is the size of the buffer. I can make it no problem but the actual length between the washers is eluding me. If any one has info on this I would appreciate it. 
The second and most important – I do not believe that the bolt (recoil spring) is correct.   The bolt does not come back far enough to chamber the next cartridge and tension seems quite high for a weak little 32. I have actual 32wsl brass and get 1450-1500 FPS with the correct powder so I am confident in the load. Just not confident in the recoil spring. It is very stiff to pull back (and harder to assemble than my 401!) if any one has data on at least the length of the spring used in the 32WSL version it would give me a starting spot. Now I have learned that the 1907 (.351) and 1905 (.35WSL) used the same spring so that may be what some bubba put in this gun – I can start with shortening a few coils to relieve tension just need an initial length!
Thank you all! 
April 15, 2020
3:59 am

Kingston, WA
Forum Posts: 11852
Member Since:
April 15, 2005
Offline
I personally do not believe that a M-1905 in 32 WSL would use the same spring as a M-1907 in .351 WSL. For that matter, I frankly doubt that the recoil spring is the same in a M-1905 35 WSL versus a 32 WSL. Because the M-1905 is a balanced blow-back action, the bullet weight (and the velocity) is the primary determining factor in determining how pressure will exerted on the spring. The .351 SL uses a heavier 180-gr bullet (and at a higher 1,860 fps velocity), therefore, it must uses a stiffer (stronger) recoil spring to compensate.
I do not have a parts listing for either model, but I highly suspect that the spring size is different for each cartridge.
Bert
WACA 6571L, Historian & Board of Director Member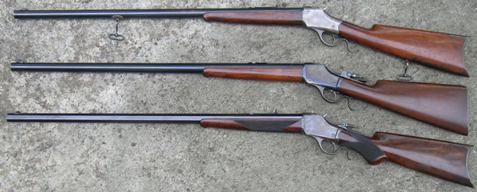 April 15, 2020
5:40 am
Forum Posts: 5
Member Since:
March 23, 2020
Offline
Bret, 
I suspect you are correct – I just need to find information on that spring and buffer. When I got my gun the buffer was a ground down bolt (lol) so I have no length reference Initially turned down AR buffer material in my lathe guessing at the length then switched to a single 1907 buffer disk which I am sure is slightly short. I suspect that the spring is not the original Winchester spring or not appropriate for my model thus the in ability of the gun to run right. Love shooting it – really nice and accurate little gun – but really want it to function properly! Hoping to find someone with one that runs that could take some measurements and pictures. 
September 12, 2021
6:28 pm
Forum Posts: 2
Member Since:
September 12, 2021
Offline
I have a 351 WSL that I have replaced the buffer and the recoil spring. The replacement buffer came from Gun Parts Corporation and the spring from Wolff Springs.
Both were advertised as correct replacement parts.  I have confirmed the fix by shooting some factory loads and have sense worked on developing cast bullet loads that shoot well and cycle the gun correctly.
I purchased a spare spring and buffer. I also have a spare washer that sits upon the buffer.
One can, without full disassembly measure a space between the metal washer and the steel cup that encloses the buffer. If there is no space or very little space between these two parts, a new buffer is needed and a real pain to change out due to the spring install.
Question? 
Current sources of new buffers?
Does R&S Precision Sports sell proper buffers for all the different models such as the 1905, 1907, 1910?
Are they all the same buffer in all the different models?
And Airflyer, yes I am willing to send you pictures and measurements of the parts I have for the 1907 351 if you still need this info.
David Whitmer ( in Virginia)
September 13, 2021
12:29 am
Forum Posts: 5
Member Since:
March 23, 2020
Offline
David, 
Thank you – I have gotten all of the proper measurements and thicknesses for 1905-1910 Winchesters – and now just make the buffers out of a Delrin material – I also built jigs for spring installation etc… I am a Gunsmith and once we mentioned on our website that we work on these I have completed several complete or functional restorations. These guns are one of my personal favorites – once they are back to a fireable condition and properly balanced they are a pleasure to shoot! 
September 13, 2021
12:40 pm
Forum Posts: 2
Member Since:
September 12, 2021
Offline
Airflyer,
Have you had enough use on the delrin buffer to know how it holds up? The original buffer as installed by Winchester (mine according to serial number suggests date of manufacture of 1916) looks to be leather and oil and crushing makes identification only a guess. But it was totally worn out and empties were thrown out way to far and scattered making finding them near impossible.  After installing a new buffer and spring, empties of factory loads are about 7 foot away.
I too had to make tools to install the spring. Not too hard a job with tooling.
I'm not a gunsmith by trade but make my own mechanical repairs.
I'm happy to hear about others reloading and shooting these WSL 
Maybe a good thread can be started on the shooting page of this forum, because as you say, they are a pleasure to shoot.
David Whitmer 
---
Most Users Ever Online: 628
Currently Online: clarence, Henry Mero
49 Guest(s)
Currently Browsing this Page:
1 Guest(s)
Forum Stats:
Groups: 1
Forums: 16
Topics: 9182
Posts: 79063
Member Stats:
Guest Posters: 1238
Members: 10632
Moderators: 4
Admins: 3