Topic RSS


1892 Winchester 44-40 Cartridge Loading Issue
January 1, 2018
8:52 pm
Forum Posts: 12
Member Since:
October 13, 2017
Offline
I have a 1892 Winchester in 44-40 with one issue. After loading the magazine, I try to cycle the action and have to massage the level until the cartridge rim slides over and centers so the carrier can raise. Its more than an annoince than anything, but I would like to resolve. Any recommendations are appreciated.
January 2, 2018
5:07 pm

New Mexico
Forum Posts: 1181
Member Since:
December 1, 2012
Offline
Hard to tell from your question exactly what is happening but it sound as though the carrier is not going all the way down when you close the lever.  This could be due to wear but the problem is more likely a broken cartridge stop spring in the left cartridge guide.  I would check for some tension and free movement on the cartridge stop itself.  If it is hard to move, or doesn't move at all, I would disassemble the action and remove that left cartridge guide and check the spring.  You don't mention how old your rifle is but that spring is so thin it is one of the first things on an 1892 that rusts out.  Replacement springs (newly made) are easy to find.
"This is the West, sir. When the legend becomes fact, print the legend." 
January 5, 2018
12:23 pm
Forum Posts: 12
Member Since:
October 13, 2017
Offline
The carrier appears to have been replaced and the carrier spring has good tension. It appears the cartridge rim is hanging up at the loading gate somehow instead of sliding over completely onto the carrier. Wiggling the lever causes the rim to release and slide over. I don't know if I need to polish some of the gate components to reduce friction, but have already done that with the loading gate cover (which has been replaced).
January 7, 2018
3:06 am

Forum Posts: 2543
Member Since:
March 20, 2009
Offline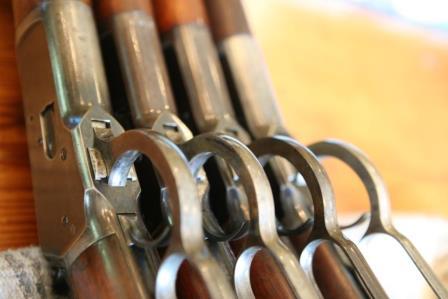 Model 1892 / Model 61 Collector, Research, Valuation
January 8, 2018
11:37 pm
Forum Posts: 27
Member Since:
May 21, 2015
Offline
 Hi,  What exactly has been replaced?  Are you sure you have not used parts out of small caliber action ?  44WCF is flat ,small caliber carrier curls up on LH side.  You say that  the loading gate has also been replaced.  The correct loading gate for 44 WCF has a narrower projection on the back then those for the smaller calibers, but can be modified. Other things to check,  make sure magazine spring and follower are clean and doing their job, Magazine cut off free and springy, and lifter should click in to position both up and down. I would check the loading gate , a 44 cartridge rim will catch on the back of a 32 Gate. Make sure that both cartridge guides are fully seated and tight ,and screw ends do not extend through.  They are great little actions, just need to be clean and oiled. I hope this helps,    Just go gently,and watch how everything works.       Eric  
January 9, 2018
12:36 am
Northern edge of the D/FW Metromess
Forum Posts: 2289
Member Since:
November 7, 2015
Offline
Don't overlook cleaning the magazine tube.
Life Member TSRA, Endowment Member NRA
BBHC Member, TGCA Member
Smokeless powder is a passing fad! -Steve Garbe
I hate rude behavior in a man. I won't tolerate it. -Woodrow F. Call, Lonesome Dove
Some of my favorite recipes start out with a handful of depleted counterbalance devices.-TXGunNut
Presbyopia be damned, I'm going to shoot this thing! -TXGunNut
---
Forum Stats:
Groups: 1
Forums: 16
Topics: 6983
Posts: 56785
Member Stats:
Guest Posters: 946
Members: 9021
Moderators: 5
Admins: 3