Have a 15″ Model 1894 "Trapper" Carbine circa 1913, sn# 702435 and would like some help.  First what is the proper name for this gun?  9 3/8 (approx.) forearm, Carbine stock with brass trapdoor butt plate. 
There's group of pictures on my website, http://www.azguns.com . Don't pay any attention to the price, it was required to post the entry with pictures.  Letter on order from Cody but was downgraded to the $40 version which sounds like it will not contain much information.  I have been  searching the books I have available but can only find Short Rifles.  Is the Short Carbine classified under this title? 
Any information would be appreciated

Kingston, WA
Forum Posts: 12735
Member Since:
April 15, 2005

Offline
Chance,
Winchester simply referred to it as a "Carbine", regardless of the barrel length.  The name "Trapper" is a collector's term.
In regards to your Model 1894 Carbine, there are several issues that I see with it;
First, either the barrel has been cut down (shortened), or the forend stock is not original.  On the short barreled Carbines "Trappers", Winchester used a 7-7/8″ forend stock.  The 9-3/8″ length was used on the standard 20″ Carbines.
Second, Winchester did not uses a "brass" trap door butt plate on any Model 1894.
Last, unless you have a BATF exemption letter, your Model 1894 Carbine is an illegal "SBR" (Short Barrelled Rifle) per the NFA of 1934.
Bert
WACA 6571L, Historian & Board of Director Member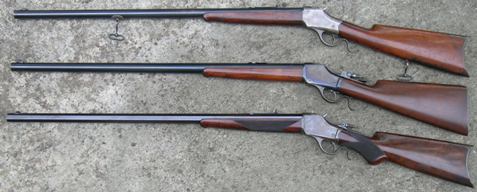 Thanks Bert.  I figured the butt stock was replaced as it is an 1 shorter than the stock one on a 94 25-35 SRC I have and, of course, the brass butt plate.  And plus it has an extra hole or two. Also the 25-35, sn# 661090, barrel is about 1/32″ or so longer than the mag tube.  If this is a cut down Carbine whoever did it did an outstanding job on the crown which looks exactly like the 25-35.  Overall this gun is pretty much trashed with the bore looking even worse than the barrel and receiver.  With a strong light and vivid imagination you may be able to detect a hint of rifling.  Pitting is the bores strongpoint.
Have contacted AFT and waiting to hear what they want me to do next.  Even if this Shorty is a workshop chop job it has personality.
Most Users Ever Online:
628
Currently Browsing this Page:
1
Guest(s)
Forum Stats:
Groups: 1
Forums: 16
Topics: 10429
Posts: 89896
Member Stats:
Guest Posters: 1433
Members: 11521
Moderators: 3
Admins: 3
©
Simple:Press
—