Kingston, WA
Forum Posts: 12592
Member Since:
April 15, 2005

Offline
Unfortunately, there is a lot of erroneous information that has been published in books and on the internet about this topic.  Hopefully the following information will make it perfectly clear exactly which Winchester firearms are actually "Antique".
Per U.S. Code Title 18, Part I, Chapter 44, Section §921, paragraph (16), an "Antique" firearm is defined as follows;
(16) The term "antique firearm" means—
(A) any firearm (including any firearm with a matchlock, flintlock, percussion cap, or similar type of ignition system) manufactured in or before 1898; or
(B) any replica of any firearm described in subparagraph (A) if such replica—
(i) is not designed or redesigned for using rimfire or conventional centerfire fixed ammunition, or
(ii) uses rimfire or conventional centerfire fixed ammunition which is no longer manufactured in the United States and which is not readily available in the ordinary channels of commercial trade; or
(C) any muzzle loading rifle, muzzle loading shotgun, or muzzle loading pistol, which is designed to use black powder, or a black powder substitute, and which cannot use fixed ammunition. For purposes of this subparagraph, the term "antique firearm" shall not include any weapon which incorporates a firearm frame or receiver, any firearm which is converted into a muzzle loading weapon, or any muzzle loading weapon which can be readily converted to fire fixed ammunition by replacing the barrel, bolt, breechblock, or any combination thereof.
As it pertains to any original Winchester firearm, only paragraph (A) above is germane to the question.  The following table was created using the original Winchester factory serialization records in possession of the Buffalo Bill Historical Center of The West Museum in Cody Wyoming.  The same records are used by the Cody Firearms Museum (CFM) records office to create a factory letter when requested.
                                                                                                       TABLE 3
                                                            Last Serial Number to Qualify as ANTIQUE (pre-1899)
 
 
 
Henry Repeating Rifle
All
Model 1866 Lever-action Rifle
All
Model 1873 Lever-action Rifle
525750
Model 1876 Lever-action Rifle
All
Model 1883 Hotchkiss Bolt-action Rifle                                                    
84551
Model 1885 Single Shot Rifle
82381
Model 1886 Lever-action Rifle
118646
Model 1887 Lever-action Shotgun
64842
Model 1890 Slide-action Rifle
64748
Model 1892 Lever-action Rifle
103328
Model 1893 Slide-action Shotgun
All
Model 1894 Lever-action Rifle
53941
Model 1895 Lever-action Rifle
19567
Lee Navy Straight Pull
13679
Model 1897 Slide-action Shotgun
63867
 
 
WACA 6571L, Historian & Board of Director Member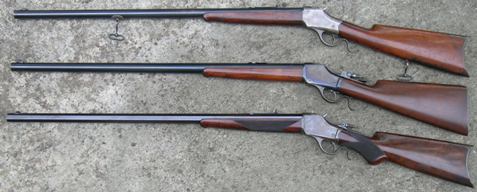 Forum Posts: 1176
Member Since:
September 22, 2011

Offline
Most Users Ever Online:
628
Currently Browsing this Page:
1
Guest(s)
Forum Stats:
Groups: 1
Forums: 16
Topics: 10275
Posts: 88551
Member Stats:
Guest Posters: 1400
Members: 11426
Moderators: 3
Admins: 3
©
Simple:Press
—