Topic RSS


Model 12 SN doesn't make sense
October 31, 2018
4:15 pm

Charlie
I have a Model 12 12 ga. 28 inch barrel. There appears to be an O left on the barrel just above the 12 ga mark so I assume it is a modified choke. The buttplate is plain black hard plastic. Grooved slide and plain stock. No rib on barrel. 
I am aware of the SN's for Model 12 and believe those made by Miroku have a "Y' added to serial number. However, the serial number on the receiver is 3782542 which is out of the range for SN's for a Model 12. No serial number on barrel. Usual Winchester proof marks on barrel and receiver as well as alignment arrows on magazine tube and receiver. 
The gun is strictly sentimental as my GF had one that was lost in a fire.  The gun is rough. 
Can someone help with the SN on the receiver? 
October 31, 2018
4:34 pm

Kingston, WA
Forum Posts: 9528
Member Since:
April 15, 2005
Offline
Charlie,
The original Model 1912/12 shotguns were serialized in the 1 - 1970885 range. The later "Y" serial guns were is the very low 2-million serial range. The serial number you mention is not possible for a Winchester Model 12. I suspect that your gun has been buffed, polished, and refinished, and that the original serial number was obliterated in the process, and the someone incorrectly replaced it with the number now on it.
The choke marking was marked either behind the gauge marking, or under it.
Bert
WACA 6571L, Historian & Board of Director Member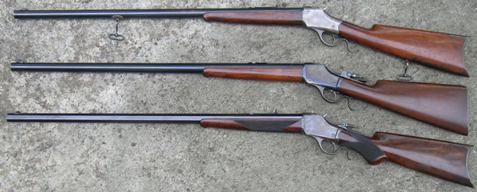 October 31, 2018
4:51 pm

Charlie
October 31, 2018
5:14 pm

Kingston, WA
Forum Posts: 9528
Member Since:
April 15, 2005
Offline
October 31, 2018
5:33 pm

Charlie
October 31, 2018
8:47 pm

Kingston, WA
Forum Posts: 9528
Member Since:
April 15, 2005
Offline
---
Forum Stats:
Groups: 1
Forums: 16
Topics: 6691
Posts: 53948
Member Stats:
Guest Posters: 903
Members: 8798
Moderators: 4
Admins: 3