Topic RSS


Dutch winchester 1893
December 9, 2018
9:05 am

Duke of holland
hi all,
my name is bram, sportshooter here in the netherlands. I have old and modern guns just i love shooting them all.
the last gun i bought is a winchester 1893 with serialnumber B 29885 on it. What information can you guys give me about the gun? I shall try by the end of the day, or otherwise in the next few days to post some pictures of it.
thanks people 😉
December 9, 2018
5:59 pm

Kingston, WA
Forum Posts: 9632
Member Since:
April 15, 2005
Offline
Hello Bram,
Your Model 1893 is listed as a standard Filed grade gun, 30-inch Full choke barrel, manufactured in the Fall (October or November) of the year 1896. Your Model 1893 shotgun is now the 28th specimen I have recorded as being in the Netherlands.
Bert
WACA 6571L, Historian & Board of Director Member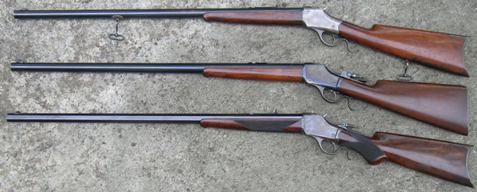 December 9, 2018
7:41 pm

Duke of holland
Hi Bert!
thanks for the very quick reply! I appreciate that! The gun is, for as i can see, in very good condition for it's age.
the inside of the barrel is over the full length as shiny as can be! Not any signs of blackpowder worn or damage, that's why i bought the gun rightaway. The rest of the gun has a very normal and quite rich patina looks on it. 
But ofcourse, (here it comes,...) it has a 20" barrel instead of the standard 30". It looks só real and i checked everything i could do, ( i am a technical engineer at a very large company, with lot's of very professional equipment) even with a €15.000,- microscope for marks if it was sawed off or anything. Even i tested the surface, looking for any reblueing or special material treatment, but no positive results,....
conclusion; 'they' (the gunsmith probably) did a VERY good job. :-/
December 9, 2018
10:15 pm

Kingston, WA
Forum Posts: 9632
Member Since:
April 15, 2005
Offline
What is the measured distance from the face of the muzzle to the center of the front sight bead? Is the barrel marked with more than one patent date?
Please send any pictures you have of the gun to me at Win1885@msn.com
Bert
WACA 6571L, Historian & Board of Director Member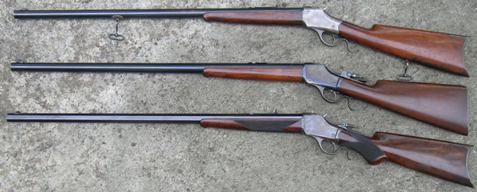 ---
Most Users Ever Online: 628
Currently Online: Vince, Old Logger
45 Guest(s)
Currently Browsing this Page:
1 Guest(s)
Forum Stats:
Groups: 1
Forums: 16
Topics: 6874
Posts: 55682
Member Stats:
Guest Posters: 931
Members: 8941
Moderators: 5
Admins: 3