Topic RSS


Deer hunts in 1891 and 2011 using the same 76
February 10, 2013
3:17 am
Forum Posts: 4
Member Since:
December 21, 2012
Offline
Christmas Morning 1891:
Even though Mary Young's time had come and the new baby would soon be born, she was not resting. There was no time for resting with a four year old son and a fourteen month old baby still in diapers. Mary had awoken early to a warm fire that had been rekindled from its nights rest by her husband. John had left before light to go hunting for deer with his brothers, something of a Christmas tradition as well as a necessity for putting food on the table. The brothers would set aside whatever chores they normally would be doing and meet at the home place before daylight on Christmas Eve to hunt deer together. This year they had nothing to show after the first day of hunting. Seldom did they have reason to hunt again on Christmas day, but this year the bitter cold had the deer hunkered down and not moving as usual. They had high hopes that they might scare one up this morning by using their numbers to drive the deer out of hiding.
Mary dressed and went to the crib where young Alma was beginning to stir and began the chore of changing her wet diaper. Little Roy was so excited to see this cold Christmas day arrive that he quickly jumped out of his bed in the loft above and moved close to the fire to get warm. Rubbing his eyes he asked if papa was back from hunting; he knew that the Christmas presents under the tree would not be opened until all the family was home together. Mary was about to answer him when they both heard the sound of a distant rifle shot.
John William Young and his youngest brother Bert set up behind a large downfall of trees overlooking a creek with an open field beyond it. There were distinct deer trails running through the field each one crossing from one forest edge to another. John's older brother Roten along with Charley and George were converging noisily toward the field from three different directions in hopes of driving a deer into the open field where John and Bert waited. John levered a cartridge into his Model 1876 Winchester and laid the barrel across the top of the downed tree which acted as both concealment and a good gun rest. It was just under a hundred yards across the creek to the tree line beyond the field and John knew that it would be a tough shot if the deer chose to stay in the tree line and not cross the field. Bert's heart raced when he first saw the buck and he immediately nudged John. He pointed to a young buck creeping along slowly just inside the tree line across the field. The buck was cautiously moving just inside the trees and stopping frequently to smell the air and listen. John did not have a clear shot for there were too many tree branches, but he could see a small open spot just ahead of the deer. If the deer would cooperate and stop when it reached that spot, John would take the shot. The deer was nervous and picked up his pace as he moved forward toward the opening. He was not going to stop as John had hoped. As he stepped into the opening John whistled. It was just loud enough to alert the buck. The deer paused for a second and looked in the direction that the sound had come from. The only part of the deer that was not obstructed by the trees was his head. John knew this was his only chance; he sighted and squeezed the trigger.
The Young families got together later that Christmas day to feast on fresh venison and listen to Bert tell how his brother shot the eye out of that buck at 100 yards. The next day Mary gave John his present, a baby girl; Cynthia Adelia Young.
December 29th, 2011
In my hands I hold that same 45-75 caliber Winchester that belonged to my great-grandfather John. On the range table are cartridges that I have hand loaded to replicate the same black powder cartridges that were available to my great-grandfather back in 1891. I am at the shooting range on my new friend's ranch in the Texas hill country. My wife, daughter and son-in-law and I have been invited here for a little recreational shooting. Our friend Doctor C. has four targets placed at a distance of100 yards, about the same distance we will be shooting when we go on our evening deer hunt. He is a little skeptical when I tell him I would like to use my old Winchester on the hunt instead of one of the scoped rifles he has brought along for us to use. To use open sights at that distance is not the best way to insure success. I assure him that I would prefer to use the old Winchester and if I miss, that's fine; at least I will have tried.
With the rifle selection determined we all get to sighting in our chosen weapon. I lever a cartridge into the old rifle and aim for my first shot. Of the four targets I choose the lower left target that is centered in the backdrop. If I miss my target I still might see the impact point around the target and have an idea of what to do next. I have never shot it at this distance and I am not sure how it will do.
I line up the front sight deep in the center of the buckhorn rear sight and as the target comes into focus, I exhale and squeeze the trigger. With black powder the smoke is pretty heavy so I can't see where I have hit. Kristin says she thinks she saw dirt fly from the hill just over the backdrop. Having missed the paper completely, I have to rely on her input that my shot was high. I do some quick figuring on the difference between where I aimed and where I hit. I figure I am off about 20 inches. I make an adjustment in my sight pattern and fire a second shot. Kristin puts the spotting scope on the target and says; "You hit about two inches out at nine o'clock." Doctor C. takes a look through the scope and confirms the hit. That is real good shooting he says.
I am quite pleased with my results, so I lever in my third round and sight again using the same sight pattern only aiming a little to the right. When the smoke clears from the third shot, I hear Doctor C. say; "Bulls-eye, that's amazing!" In reality when I measured it later the hole was ½" left of the bulls-eye. But I am happy, especially when Doctor C. tells me I am his new hero.
Our evening hunt is on as we arrive at the deer stand around 3:30 pm. We set up inside the stand, I with the Winchester and my son-in-law Dennis with a 7mm Remington bolt action. Doctor C. is using his trusty 25-06. He explains that there are two deer species in the hill country, Whitetail and Axis. The Axis deer is favored over Whitetail for their taste and they can be hunted year round in that part of Texas. The younger does, however are a little on the small side and very quick.
We are visited first by a young Whitetail doe at the feeder. Doctor C. says we should wait for the Axis to come, so we hold off shooting at the Whitetail. At around 5:10 pm a solitary Axis doe comes out of the tree line on my side of the field at about 70 to 75 yards. It walks across the field heading away from us toward the feeder. Doctor C. says that I should take this shot with my open sites while it is still this close, because as it walks to the feeder it will be going away from us making the shot even harder. I sight on the doe as it is moving and our host whistles to see if it will stop. It does for a second then moves on. I try the whistle and sure enough it stops and looks directly at me. I sight on its head (about the size of a grape fruit) because I don't want to ruin the meet by shooting at the body which is a much bigger target. I squeeze off the shot and as the smoke clears, I hear Doctor C. exclaim; "You hit it, I don't believe it you got it!"
When we examine the deer and turn it over we find my shot is through the left eye. Doctor C. looks at me and says; "You hit it in the head." I said; "Well, that's what I was aiming at." He couldn't believe I would aim at such a small part of the deer instead of the larger body target. I told him; "Well the head shot was easier than a neck shot on that small a deer and I sure wasn't going to shoot at the shoulder." I have made a new friend in Doctor C. and I hope I can return to hunt with him again…and yes I will use my old Winchester with open sites.
Later that evening as I and my family ate venison around the camp fire, I thought about my great-grandfather and couldn't help but think he would have been proud of my shot as much as he was of his.
February 10, 2013
2:04 pm
Forum Posts: 109
Member Since:
June 11, 2014
Offline
February 10, 2013
7:43 pm

Forum Posts: 1133
Member Since:
December 30, 2011
Offline
jryoung7
Thanks for the good story. I have a similar situation…except I haven't shot anything other than targets with the rifle yet.
Brad
February 11, 2013
5:00 pm
Aylmer, Quebec, Canada
Forum Posts: 894
Member Since:
March 23, 2007
Offline
February 11, 2013
6:54 pm
Forum Posts: 109
Member Since:
June 11, 2014
Offline
Matt74 said
I only ever had one 76 – in 45-60 – but as Win 38-55 can attest to, it was super accurate, even way out.
It definitely was one of the most accurate old Winchesters I ever owned. My very first five shot group was less than 1 & 3/4" at 100 yards with that old rifle. Of course, a target stays nice and still, unlike a deer. That was a nice shot you made.
February 11, 2013
8:48 pm
Forum Posts: 92
Member Since:
March 23, 2007
Offline
February 12, 2013
5:21 am

Forum Posts: 2709
Member Since:
March 20, 2009
Offline
February 12, 2013
11:45 am
South Texas
Forum Posts: 1099
Member Since:
March 20, 2010
Offline
Great story. Ive got a 76 in 45-60 with 30" barrel, shoots like a dream. Ive packed it hunting a few years ago but didnt have the opportunity to shoot anything with it. I want to use it one day to take an old buffalo.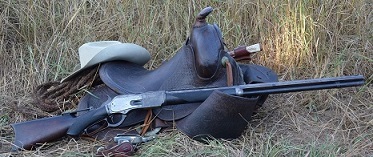 1892takedown @sbcglobal.net ......NRA Endowment Life Member.....WACA Member
"God is great.....beer is good.....and people are crazy"... Billy Currington
February 12, 2013
3:50 pm
Aylmer, Quebec, Canada
Forum Posts: 894
Member Since:
March 23, 2007
Offline
twobit said
Nice story. Those Axis deer in the Hill Country are definitely on the small side. Great shooting. You need to use that rifle to put a few hogs to sleep at his ranch!

Michael
I think all those deer down in TX are on the small side compared to their Northern cousins, making that head shot even more impressive!
Matt
---
Forum Stats:
Groups: 1
Forums: 16
Topics: 9131
Posts: 78666
Member Stats:
Guest Posters: 1230
Members: 10604
Moderators: 4
Admins: 3