Topic RSS


1894 Winchester 32 Special Shooting High
October 25, 2020
4:34 pm
Pennsylvania
Forum Posts: 6
Member Since:
October 25, 2020
Offline
Hi all.  I have an 1894 Winchester 32 Special made in 1909 that is shooting about 5-6 inches high at 50 yards from point of aim.  I'm using 170 grain bullets, octagon barrel is 26″ long, standard buck horn sight is in the lowest notch of the elevator and smaller adjustment notch, and the front sight measures .300″ above the flat (.390″ overall height).  Front sight does not appear to be worn or filed down. My question is, is this normal for this rifle?  Would really like it to shoot point of aim for hunting, if possible. Thanks for any thoughts or suggestions.
Best,
Mark
October 27, 2020
5:58 am
South Texas
Forum Posts: 1075
Member Since:
March 20, 2010
Offline
Youve got two choices, either find a taller front sight or adjust for point of aim.   I have a 38-55 that shoots 14 inches high at 100 yards using the tallest front sight I could find and lowest setting on the rear sight.  It happens.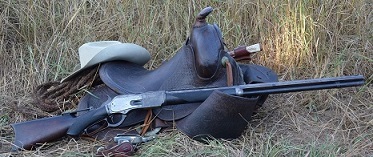 1892takedown @sbcglobal.net ......NRA Endowment Life Member.....WACA Member
"God is great.....beer is good.....and people are crazy"... Billy Currington
October 27, 2020
9:20 am
Forum Posts: 24
Member Since:
September 3, 2018
Offline
I have a 1905 94 32 special that also shoots high if you sight the center of the bull. I was told by several shooters of old Winchesters that the guns were originally harmonized to "float" the bull at six o'clock on top of the front sight. I have found that to be true with every model 92 and 94 I own. If you are using an aperture sight it may have enough adjustment to shoot center bull.As for the 38-55, the original ammo was loaded with a velocity of 1320 fps and I have noticed if I reload much above 1500 fps I will get way high hits. I had to install a higher front sight to get the point of impact down to a usable point.
October 27, 2020
1:42 pm

Forum Posts: 70
Member Since:
December 10, 2008
Offline
Great topic. 
I've had the same issue with pre-'64 carbines in both .32 WS & .30 WCF shooting very high.  When lining them up & viewing from the muzzles it's obvious there are varying blade heights.  And, for the longest time I attributed it to previous owners having changed the front sights for whatever reason.  However, after having scrutinized many pristine examples of carbines with both original hoods, and sights with absolutely no signs of ever having been removed or tampered with in any respect, I've arrived at the conclusion the "wrong" height front sights were very likely inadvertently installed during manufacturing.  
Mixed front sights in parts boxes from subcontractors?  Mixed up in the factory?  Inexperienced assemblers? I dunno…but I've noted it's not uncommon.  It's also likely the reason some of these carbines are in such pristine condition…they hit so high owners decided not to use them much; for hunting anyway. 
Just one man's observation.
November 22, 2020
1:40 pm
Forum Posts: 3
Member Since:
November 12, 2020
Offline
November 22, 2020
5:41 pm
Forum Posts: 1230
Member Since:
May 24, 2012
Offline
November 22, 2020
7:14 pm
Forum Posts: 2633
Member Since:
March 31, 2009
Offline
gfkaitai@yahoo.com said
I have a 1938 production model 94 in 32 Special and it also shoots about 6 inches high. It is bummer since I would like to take it hunting.  
At what range??  If 50 yds you know it will not shoot as high at 100 yds.  Try removing the elevator or change to a taller front sight or aim lower.  If you learn to use "Kentucky windage" and shoot your gun a lot things will work out.  Another option is to use a second rear sight for hunting.  Buy a reproduction sight and file the notch to the point it will shoot where you want.
November 22, 2020
8:12 pm
NY
Forum Posts: 2956
Member Since:
November 1, 2013
Offline
Chuck said

Buy a reproduction sight and file the notch to the point it will shoot where you want.  
If buying a new sight, make it a tang sight that will make elevation adjustment a breeze.  Open sights–why bother?  The crude Lyman #2 repro can be had for under $100, but if the rifle has any condition at all, that would be money wasted, when an original can be bought for about $200. 
---
Forum Stats:
Groups: 1
Forums: 16
Topics: 8765
Posts: 75603
Member Stats:
Guest Posters: 1172
Members: 10322
Moderators: 4
Admins: 3