Forum Posts: 10
Member Since:
April 6, 2022

Offline
Bert,
I only own the one . I took a paper towel rolled very tight , shoved it in the chamber and twisted till it git too tight to turn , pulled it out and soaked it with acetone . Put it back in and twisted that till I was pretty sure any oil would be in the towel . I guess it worked because the lever does not open any now when fired with the same cartridges. 
I do not have a copy of your article but would be very interested in reading it . An article by Townsend Whelen written about 1958 is what got me interested in the model 71 to begin with. I read it in one of my pap's older magazines and it was the first thing I ever read in a gun magazine. Never found a model 71 in a store or at a gun show that was for sale but had wanted one every since, that would have been about 1964 or 1965 that I read about them. Let me know what you need and I will send you any info on this gun that you need .  Serial number is 7781 , it is a standard model , has the bolt peep and it's original sight hood . I think the loading gate and the piece it is attached to were not blued from the factory , the piece the gate hooks to is blued so I think it has been re blued. The bluing looks as good as original and is very similar if not the same as some rifles I own and some I have looked at from that Winchester era. I love it either way as I am not a Winchester collector just a gun nut and hunter. I do have a good hand full of older Winchesters and started my deer hunting with a Winchester M1 carbine my grand uncle Charlie Little sent home piece at a time from Italy during WWII . 
I ain't going anywhere, I'll be around and will post it if I get another Winchester. I will put pictures up when I can get my son to help, I take horrible pictures and the auction pictures weren't much count either.
Eddie

PS: I clicked the wrong button , this was to be a reply not a new topic. Getting old ain't for sissies.
Better to be judged by twelve than carried by six.
Grumpy old man with a gun......Do Not Touch.

Kingston, WA
Forum Posts: 12727
Member Since:
April 15, 2005

Offline
Eddie,
Your Model 71 Standard was manufactured in November 1936.  I will send you a copy of the article via email shortly.  If you can send me pictures of your Model 71 via email, I would appreciate seeing them.
Bert – [email protected]
WACA 6571L, Historian & Board of Director Member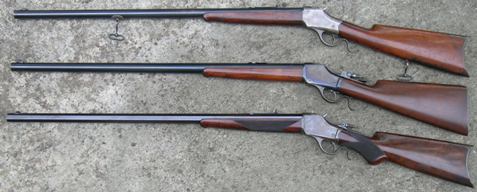 Most Users Ever Online:
628
Currently Browsing this Page:
1
Guest(s)
Forum Stats:
Groups: 1
Forums: 16
Topics: 10423
Posts: 89846
Member Stats:
Guest Posters: 1432
Members: 11514
Moderators: 3
Admins: 3
©
Simple:Press
—