Topic RSS


more info for Michael's survey
December 27, 2016
11:58 pm
Forum Posts: 48
Member Since:
May 8, 2014
Offline
re:  # 919549 .      I nave to call this a Model 92/65.     The receiver and stock appear to be correct for a rifle with that S/N ;   proper upper tang, straight grip of plain wood, and crescent buttplate.
However, it has a Model 65 barrel, forend, and button mag.     I am curious about one thing.     The "65" was peened down (not ground off) and the number 92 stamped in it's place.     There was enough of the old number visible to tell that it wasn't a 53.     The barrel is stamped  - 32 W.C.F. - in the correct location, and there is a proof mark on the top of the barrel directly in front of the one on the receiver.     The style (font ?) of the numerals in the 92 stamping is like those of the receiver S/N rather than the 32 in the caliber stamping.     The stampings on the under side of the barrel are :   32 WCF, the triangle inspection mark, and the number 38 (the year the barrel was made ?).
Is it possible that the original 92 rifle needed a new barrel but the factory only had Model 65 parts ?     Could the factory have done the restamping, or would they have just sent the barrel and mag., if that is what happened ?     If the barrel was shipped as a 65,  I wonder why the person who bought it would go through the trouble of remarking it ?     The barrel is in excellent condition and the receiver/stock  appears to have been restored at some time (well done), so it is an attractive looking gun, despite having no collector value.
Any thoughts or opinions about this from Forumers would be appreciated.     Thanks.
December 28, 2016
12:58 am

Kingston, WA
Forum Posts: 9632
Member Since:
April 15, 2005
Offline
Mustang,
Yes, the "38" is the year the barrel was manufactured.  The Winchester factory still had (and was still making) Model 92 barrels in the year 1938.  In my learned opinion, Winchester would not have "peened" over a Model marking and then remarked it (by hand).
Bert
WACA 6571L, Historian & Board of Director Member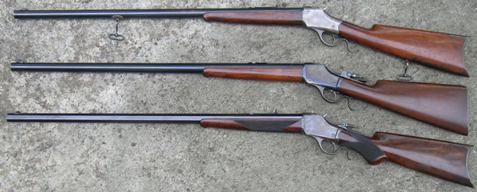 December 28, 2016
4:28 pm

Forum Posts: 2510
Member Since:
March 20, 2009
Offline
Hello Mustang,
I would agree with Bert that  I doubt that Winchester would have "remarked" the barrel as you describe.  The serial number of the rifle corresponds to production from 1921.  The upper tang will most likely be stamped "MODEL     92" on the top line though there are a few stray guns in this time period which are still stamped MODEL 1892 on the top line.
Michael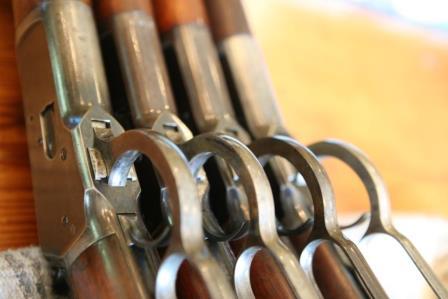 Model 1892 / Model 61 Collector, Research, Valuation
---
Most Users Ever Online: 628
Currently Online: mrcvs
26 Guest(s)
Currently Browsing this Page:
1 Guest(s)
Forum Stats:
Groups: 1
Forums: 16
Topics: 6839
Posts: 55459
Member Stats:
Guest Posters: 929
Members: 8921
Moderators: 5
Admins: 3