Topic RSS


M1894 takedown SN 880940
June 16, 2018
12:46 pm
Forum Posts: 39
Member Since:
March 4, 2018
Offline
June 17, 2018
1:19 am
Forum Posts: 989
Member Since:
March 31, 2009
Offline
June 17, 2018
12:08 pm
Forum Posts: 635
Member Since:
September 22, 2011
Offline
June 17, 2018
9:20 pm

Kingston, WA
Forum Posts: 9470
Member Since:
April 15, 2005
Offline
Mark,
Thanks for posting this rifle.  I have added it to the Model 1894 survey.  From serial number 879000 - 881000, nearly all of the Model 1894s made were Take Down rifles.  I have surveyed a total of (55) serial numbers in that range, and of that number, (49) of them are Take Downs.  Winchester apparently manufactured a substantial batch of Take Downs in that particular lot of 2,000 Model 1894s.
Bert
WACA 6571L, Historian & Board of Director Member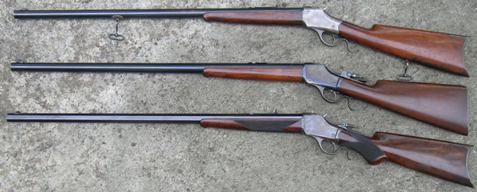 June 21, 2018
4:24 pm
Forum Posts: 305
Member Since:
November 2, 2009
Offline

June 22, 2018
4:25 am

Kingston, WA
Forum Posts: 9470
Member Since:
April 15, 2005
Offline
win4575 said
Here's another one for your list.  Model 94, .38-55 SRC, full mag, Nickel Steel Barrel. #1015394  Forgot to mention factory installed sling eyes.  
Thanks! 
One question. The upper tang marking should be the Type-5 or 5A style... can you confirm which type that it is?
Bert
WACA 6571L, Historian & Board of Director Member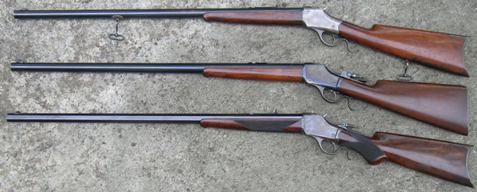 June 22, 2018
2:03 pm
Forum Posts: 305
Member Since:
November 2, 2009
Offline

June 22, 2018
7:51 pm

Kingston, WA
Forum Posts: 9470
Member Since:
April 15, 2005
Offline
WACA 6571L, Historian & Board of Director Member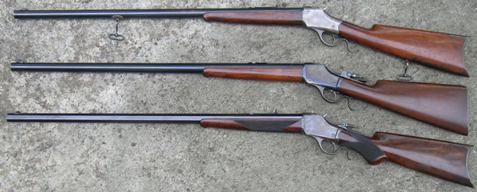 June 24, 2018
10:50 pm
Forum Posts: 305
Member Since:
November 2, 2009
Offline

June 24, 2018
11:21 pm

Kingston, WA
Forum Posts: 9470
Member Since:
April 15, 2005
Offline
September 29, 2018
2:01 am
Northwest Missouri
Forum Posts: 38
Member Since:
February 24, 2017
Offline
September 29, 2018
7:08 am

Kingston, WA
Forum Posts: 9470
Member Since:
April 15, 2005
Offline
September 30, 2018
1:28 am
Northwest Missouri
Forum Posts: 38
Member Since:
February 24, 2017
Offline
---
Most Users Ever Online: 628
Currently Online: Mark Douglas, Big Mac
44 Guest(s)
Currently Browsing this Page:
1 Guest(s)
Forum Stats:
Groups: 1
Forums: 16
Topics: 6607
Posts: 53181
Member Stats:
Guest Posters: 886
Members: 8723
Moderators: 4
Admins: 3