Forum Posts: 1
Member Since:
July 8, 2017

Offline
Hello, I am new to the forum which looks like a great way to communicate information on Wichester firearms.
I have been tasked with identifying and assigning value to my recently deceased father in laws gun collection.
One of the guns is a Wichester model 42 410 2 1/2 chamber Skeet slide action shotguns. 26 3/4″ barrel measured to include what I read was a factory installed Cutts Compensator (no choke markings or markings at all)
serial #684xx Deluxe, has 2 diamonds on each side of checkered forearm and one diamond on each side of checkered pistol grip. 
Also has a vent rib.
looking for a value as there are so many variations of the 42 it is difficult to tell. I have see values from $6800 to $16000.
the gun is in very good condition with normal wear marks.
Thanks in advance for any info you may have.
Rick
Forum Posts: 181
Member Since:
October 6, 2009

Offline
Rick, sorry for your loss. Easiest way to establish a value is to post some pictures here. Not a big shotgun guy but most Model 42's you see on the internet are in the $1500-2500 range. Another avenue would be to try Gunbroker or GunsInternational for some comparables. Good luck.
Casey

Kingston, WA
Forum Posts: 12733
Member Since:
April 15, 2005

Offline
Rick,
The stock pattern you have described was found on the Pigeon Grade guns.  The Skeet grade did not have diamonds on the slide-handle stock.  Can you post clear pictures showing all of the factory markings on the receiver and barrel?
Bert
WACA 6571L, Historian & Board of Director Member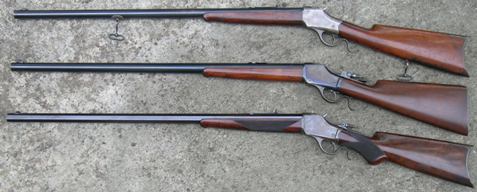 Santa Clara, CA
Forum Posts: 655
Member Since:
January 27, 1992

Offline
Rick,
 I'm a little late but I just seen your post about your model 42 . Winchester did not put vent ribs on model 42's until around 125000 serial  number so if your gun is in the 68,000 Serial number range the rib is not original.  They also did not offer cutts compensators until 1954 which puts your gun out of that serial number range.  Original cutts 42's are extremely rare as they only made roughly 70  shotguns  with this variation.
 Before Duck Combs sold his 42 collection a few years ago I was fortunate to view all of his collection at his home in Iowa. He had a boxed 42 with original cutts compensator.
 I am fortunate to own an  original cutts 42 with a doughnut post rib.  These original 42's are very rare and very expensive.  I've been collecting Winchesters for 50 years and have only seen three originals .
 Regards Gerald 

wallyworld1
Hi, I'm looking at a 1957 model 42 deluxe with a straight stock with diamond on underside, 26″ plain barrel with white dot sight, a double diamond checkered slide, jeweled bolt and carrier, modified choke with matching serial numbers of 1278xx.
Did this grade come with a plain barrel and straight stock?
Thanks, 
Doug
Doug,
The short answer is yes. You could order deluxe grades in any configuration and a plain barrel deluxe would be unusual. The value would be diminished greatly without a factory rib. It's very easy to fake a plain barrel 42 into a deluxe grade. There are more fakes out there than originals. I own several original deluxe and one pidegon grade vent rib model 42s. It has taken a long time and a lot of cash to find these origonal deluxe 42s.
Gerald

wallyworld1
Gerald,
Thanks so much for the response and info, even though I am new to learning about these guns, it seemed odd that a deluxe grade would be made with a plain barrel.  I will get to look at it personally on Friday, anything I should look for that would tip off a fake deluxe?
Thanks again for helping with my education on these great guns.
Doug
Most Users Ever Online:
628
Currently Browsing this Page:
1
Guest(s)
Forum Stats:
Groups: 1
Forums: 16
Topics: 10428
Posts: 89885
Member Stats:
Guest Posters: 1433
Members: 11517
Moderators: 3
Admins: 3
©
Simple:Press
—