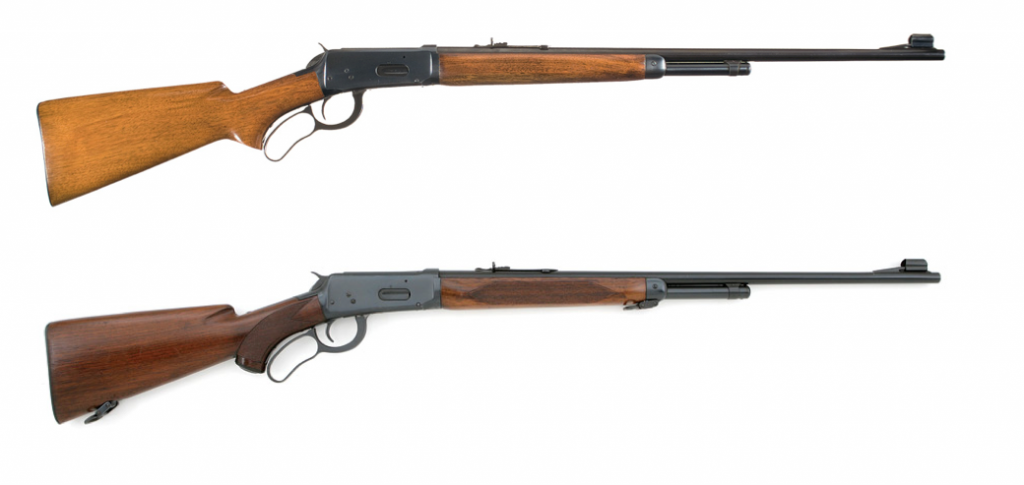 The Model 64 was introduced in the January 1933 catalog specifically as a replacement to the Model 55.  As it was originally cataloged, it was available in the same 25-35 W.C.F., 30 W.C.F., and 32 W.S. cartridges as the Model 55.  Like the Model 55, the Model 64 was never officially offered or cataloged in either the 32-40 or 38-55 cartridges, but there were a very small number of each that were made up through the year 1937.  They are very rarely encountered, and many of them that are found today are fakes!
Production of the Model 64 began in late 1932, and two variants were offered; (1) the standard Rifle, and (2) the Deer Rifle. Many collectors refer to the Deer Rifle as a "Deluxe".  Throughout its entire production, the Model 64 was serialized in the Model 94 serial number range.  Production of the Model 64 ended in late 1957, with an estimated at 66,783 manufactured, but that estimate may be too low.
In 1934, a 20-inch barrel was offered for both the standard Rifle and the Deer Rifle, with collectors commonly referring to them as "Carbines".  In 1937, the 219 Zipper was added to the production line.  Other than different rear sight arrangements, very little else was offered for the Model 64.
The Cody Firearms Museum research office has the Polishing Room serialization records for all Model 64s manufactured through serial number 1352066.