Historically Important Henry Rifle

From the collection of WACA member Wayne Thompson
In collecting Henry and Winchester rifles, very seldom do we know where these guns have been. Historically important inscribed guns, such as this one, are most sought after by today's collectors.
 The Man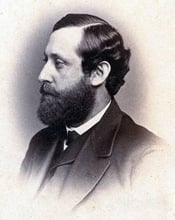 Leonard Myers (1827-1905), a Representative from Pennsylvania; born in Attleboro (now Langhorne), Bucks County, PA, on November 13, 1827. Attended private academic schools and the University of Pennsylvania at Philadelphia; studied law and was admitted to the bar in 1848 and practiced in Philadelphia. Held the rank of Major with the Ninth Regiment, Pennsylvania Militia, during emergency service of September 1862. Elected as a Republican to the Thirty-eighth, Thirty-ninth, and Fortieth Congresses (March 4, 1863 – March 3, 1869). Successfully contested the election of John Moffet to the Forty-first Congress. Reelected to the Forty-second and Forty-third Congresses and served from April 9, 1869 to March 3, 1875. Chairman for the Committee on Foreign Affairs, Committee on Patents (Forty-second Congress), and Committee on Private Land Claims (Forty-third Congress). Resumed his law practice after an unsuccessfully run for reelection in 1874. Died in Philadelphia, PA February 11, 1905; interment in De Benneville family cemetery.
The Gun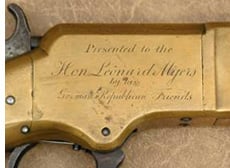 Second Model Inscribed Henry Rifle .44 RF s/n 7488 mfg 1864 – 24" Henry barrel; 1000-yard no-retaining screw rear sight; sling swivels; straight grain varnish finished walnut stock; inscription on right side plate: "Presented to the Hon. Leonard Myers by his German Republican Friends". Receiver is in sound condition with reasonably sharp corners. The trigger spring appears to be an old replacement; barrel and magazine blue has turned a plum to brown color with some areas of scattered light pitting especially evident on the right side forward and on the loading sleeve; butt-stock is sound and in good condition, retaining a high degree of varnish finish, with signs of honest use but no abuse; action is mechanically excellent; bore is in good condition with good rifling and some pitting, and is considered a 7 on a scale of 1 to 10. Most of these guns were used in the Civil War, and later in the Indian Wars. Many Henry rifles were used on the battlefield and as a result saw much hard use and abuse. As such, this is an above average gun in very good condition. All of the standard markings on this rifle are correct and original to the gun. The barrel markings are clear. The serial number is stamped on the rear top flat of the barrel, on the left side of the lower tang inside the stock, and on the toe of the buttplate. Lower tang is marked "W" indicating Oliver F. Winchester was the inside contractor. The inscription "Presented to the Hon. Leonard Myers by his German Republican Friends" appears to be old, authentic, and of the period. This Henry remains in the original .44 rimfire caliber configuration and the bolt, firing pins and chamber have never been altered.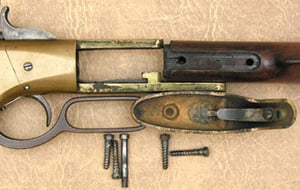 I would like to thank my dad for getting me interested in American history and gun collecting, and Rob Kassab for authenticating my Henry rifle. If anyone has any information about this Henry rifle or Leonard Myers, please email me.