Topic RSS


1885 questions
April 13, 2017
9:58 pm
Forum Posts: 48
Member Since:
May 8, 2014
Offline
      I recently got both of John Campbell's books about the Single Shot, which brought up a question.     Pages 96 & 97 of Volume I have a long list of chamberings and barrels for the S. S.     I was quite surprised to see that the .38WCF  and .44WCF  had twist rates of 1 -36,  while the .25WCF was 1 – 14 and the .32WCF was 1 – 20.
      Anybody know why the .38 and .44 had such slow twist rates ?     Why weren't they the same as, or at least closer to, the '73 and '92 rifles ?
      Also, anyone have reload suggestions for the .38WCF in the 1885 ?
                  Thanks !
April 14, 2017
5:16 am

Kingston, WA
Forum Posts: 11941
Member Since:
April 15, 2005
Offline
Not everything you read in Campbell's 2-volume series is accurate.
Do you have a low-wall rifle, or a high-wall ? The high-wall receiver is quite some bit stouter, and you can load it quite hot if you choose to do so. If you have a low-wall, keep it in the same range as the W.H.V. loads made for the Model 1892.
Bert
WACA 6571L, Historian & Board of Director Member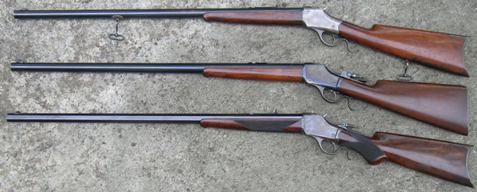 ---
Forum Stats:
Groups: 1
Forums: 16
Topics: 9346
Posts: 80604
Member Stats:
Guest Posters: 1262
Members: 10755
Moderators: 4
Admins: 3